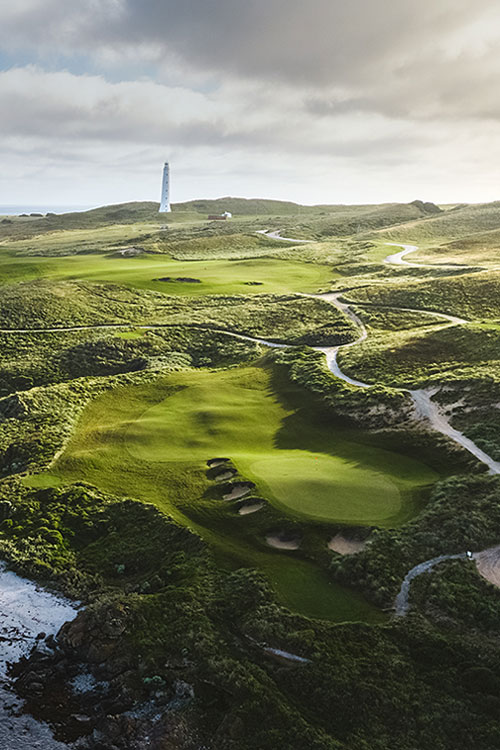 Experience the raw & rugged charm that is King Island. Anchored between Tasmania and the Mainland lies this humble piece of Australian history, rich with culture & ample activities all year round.
Famous for its pristine beaches, world-class golf courses and mouthwatering produce, King Island demands global attention and attracts visitors to its shores daily.
*Please Note: All pricing above is based on day trip charters.
Please contact us for pricing on longer stays.
*Please Note: All pricing above is based on groups of 8 Passengers. If travelling in smaller or larger group sizes please contact us for more accurate pricing.
Cape Wickham is anchored on King Island's majestic coastline and regularly plays host to golfers from all over the world. Experience rolling dunes and unsurpassed views as you tee off from the beautiful coastal landscapes with an ocean backdrop canvassing your horizon. All 18 holes enjoy views of the Bass Strait, and most are in view of Australia's largest lighthouse.
Gently manicured into a two-kilometre stretch of ocean frontage just 5 Minutes from King Island airport. 
With a top 100 world ranking in their sights Ocean Dunes is set to be on everyone's must play list' and there's no better way to get there than a South Air charter. 
These delicious cheeses are made on King Island from 100% King Island milk, sourced from a handful of local farms and delivered fresh daily to the dairy.
Be sure to stop into the cheese factory and select your favourite cheeses to take home.
The waters around King Island are a fisherman's paradise and home to a wide variety of species including Mako Sharks, Kingfish, Tasmanian Striped Trumpeter, Bluefin Tuna, Nannygai, Morwong, Salmon, School Sharks, Gummy Sharks, Crayfish and many more.
Aboard Proline Charters' 60ft West coaster, you will experience the exhilaration of sports fishing the Continental Shelf.
Daytrip and multi-night packages available.
Fishing charters operate January – March, weather dependent.
Discover surfings best kept secret with direct flights to the secluded breaks of King Island. Surrounded by water, you are guaranteed your own wave at one of the islands many beaches.
King Island Racing Club is hosting 7 official race meetings this year. Enjoy award winning dairy, succulent seafood, and some of Australia's finest beef, all over a gourmet racing weekend on King Island. 
Stay the luxurious Netherby Rocks and enjoy your own piece of island paradise.